Digitial acoustic Monitoring
"DMON"
BUOY
Inventors: Mark Baumgartner
Intellectual Property: Patent Pending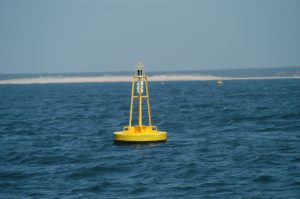 Overview: Loud sounds emitted during offshore industrial activities can negatively impact marine mammals. Therefore, regulations are required before and/or during these activities to protect marine mammals and mitigate noises transmitted. Traditionally, these monitoring activities involve trained marine mammal observers (MMOs). However, due to the quality and reliability of MMO data, there is increased interest in developing and using other technologies for mitigation and monitoring purposes.
Technology: The DMON Buoy ensures a quiet acoustic environment for passive acoustic monitoring. The mooring is equipped with the DMON instrument and hydrophone; together, the instruments transmit information about detected sounds to shore by Iridium satellite communications in near real-time. Additionally, the DMON Buoy utilizes an innovative stretch hose, which allows the hose to stretch to nearly twice its relaxed length and decouple surface motions from the mooring line. This added feature ensures accurate sound detection without surface activity interference.
CONTACT
To learn more about this opportunity please contact:
The Office for Technology Transfer