Free Event Tomorrow: WHOI's Ocean Science Cafe – Innovation Edition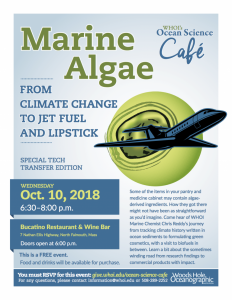 Marine Algae – From Climate Change to Jet Fuel to Lipstick
Some of the items in your pantry and medicine cabinet may contain algae-derived ingredients. How they got there might not have been as straightforward as you'd imagine. Come hear of WHOI Marine Chemist Chris Reddy's journey from tracking climate history written in ocean sediments to formulating green cosmetics, with a visit to biofuels in between. Learn a bit about the sometimes winding road from research findings to commercial products with impact.
Wednesday, October 10, 2018
6:30–8:00 p.m.
Doors open at 6:00 p.m. • Food and drinks available for purchase
For more information, contact information@whoi.edu or 508-289-2252.