WHOI Tech Transfer Concludes Innovation Month; Pitchathon Winner Announced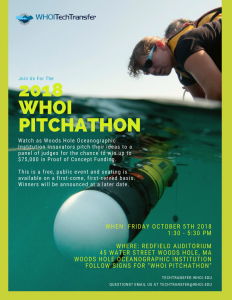 Innovation Month kicked off with the 4th Annual WHOI Pitchathon. For the first time, this year's event was open for public viewing. The event took place in Redfield Auditorium on October 5th, with a great turnout and four WHOI teams competing for Proof of Concept Funding. The ideas pitched this year ranged from autonomous systems to algal-derived cosmetic wax. It was a great showcase for the diversity of research and innovation taking place at WHOI.
The four teams requested a total of $300,000 in Proof of Concept Funding to advance their product towards commercialization, demonstrating the need for Proof of Concept Funding amongst the WHOI research community. Only able to award a max of $75k, the panel of judges selected Andy Billings and his Large Dynamic Range BLDC Electric Motor to receive the full award. 
The Pitchathon will take place again next October. We will be launching a webpage soon with more information for applicants, information on previous winners, and updates on awarded projects. Check back in early 2019 for updates.
[folder-gallery fid="10″ columns="2″ orderby="rml" size="large"]
Did You Know? Each year WHOI Tech Transfer pairs Pitchathon applicants with Business Advisors to help in market research and perfecting their technology pitch. If you are an experienced entrepreneur or product development professional and interested in helping out by serving as a Business Advisor – please register here.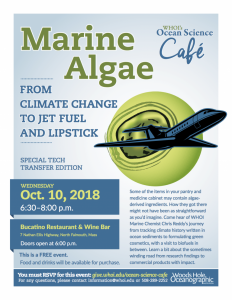 On October 10th, WHOI Tech Transfer collaborated with the Communications group to bring a special Innovation Edition of the Ocean Science Cafe to the local community. WHOI Senior Scientist Chris Reddy spoke at a sold-out event on the often winding path from research discovery to product with commercial potential.
Dr. Reddy was originally looking at alkenones from microalgae in order to create biofuels, discovering more recently they can be used to create a natural, vegan cosmetic wax for use in lipstick, sunscreen, and other personal care items. Dr. Reddy is now working with collaborators from Western Washington University and the Office for Technology Transfer to commercialize the wax.

The event was part of a series of Ocean Science Cafes intended to make science accessible to the community through casual events that encourage conversation, debate, and interaction between scientists and the public.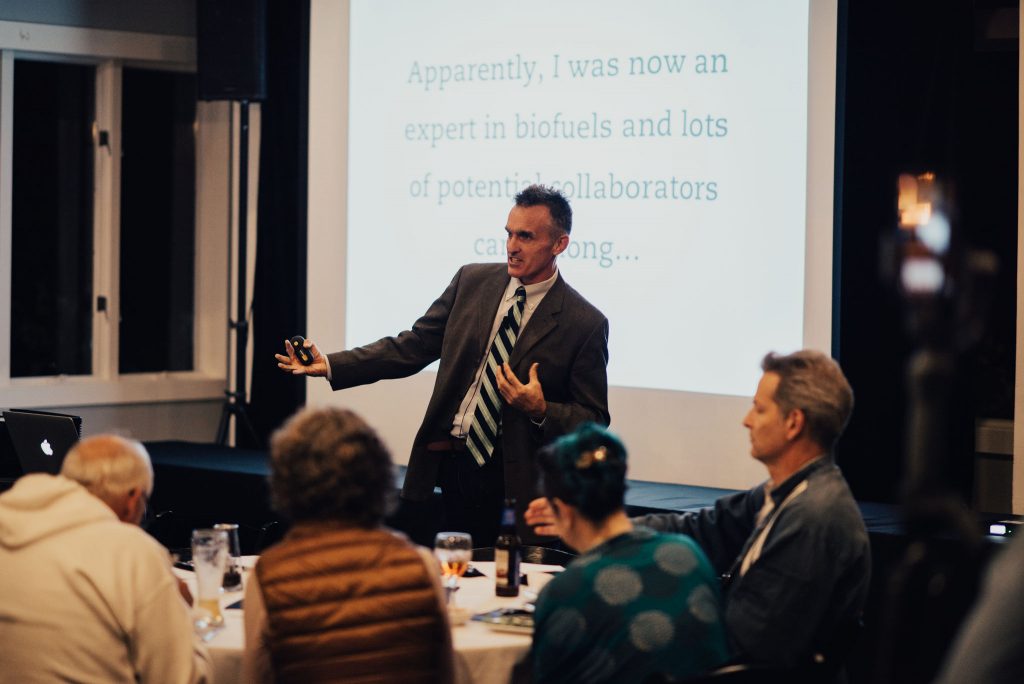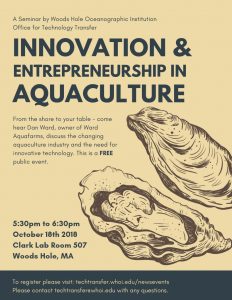 WHOI Tech Transfer kicked off it's new Innovation & Entrepreneurship Seminar Series on October 18th with a talk by Dan Ward, owner of Ward Aquafarms. Ward discussed opportunities and the need for innovative technologies in the field of Aquaculture by highlighting specific challenges farms are currently facing. His talk touched on technology he's currently developing, as well as two previously built apps he's now worked into his daily workflow at the farm.
The audience included members of the local community, students, and WHOI staff. WHOI Tech Transfer will be announcing new seminars as they arise. The goal of the series is to make WHOI Innovators aware of opportunities for new technology in various industries as well as to address challenges and misconceptions related to entrepreneurship.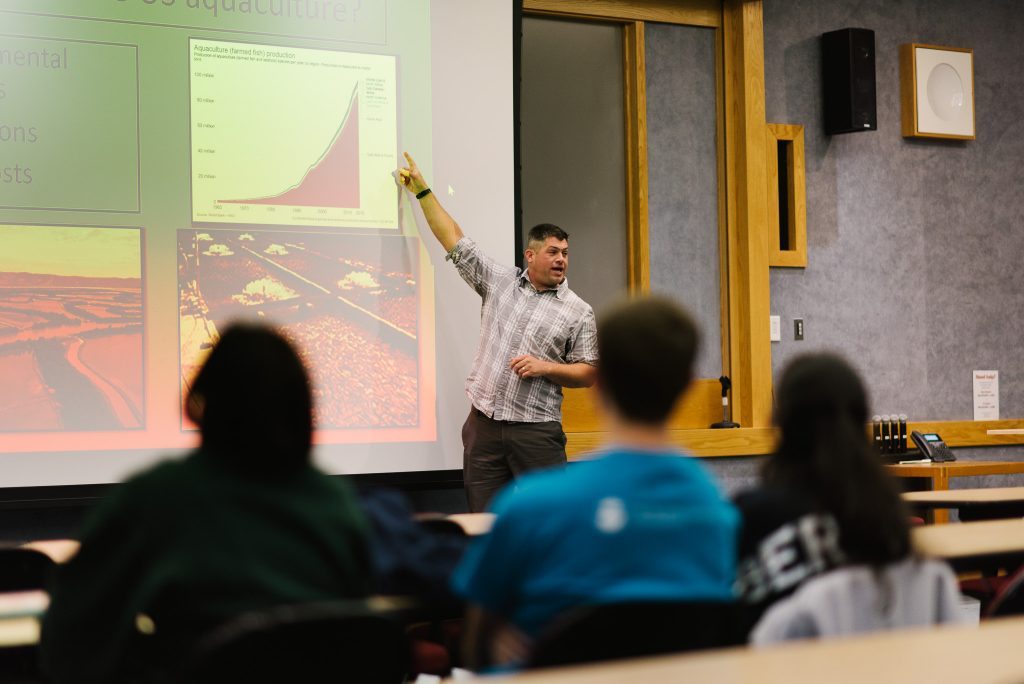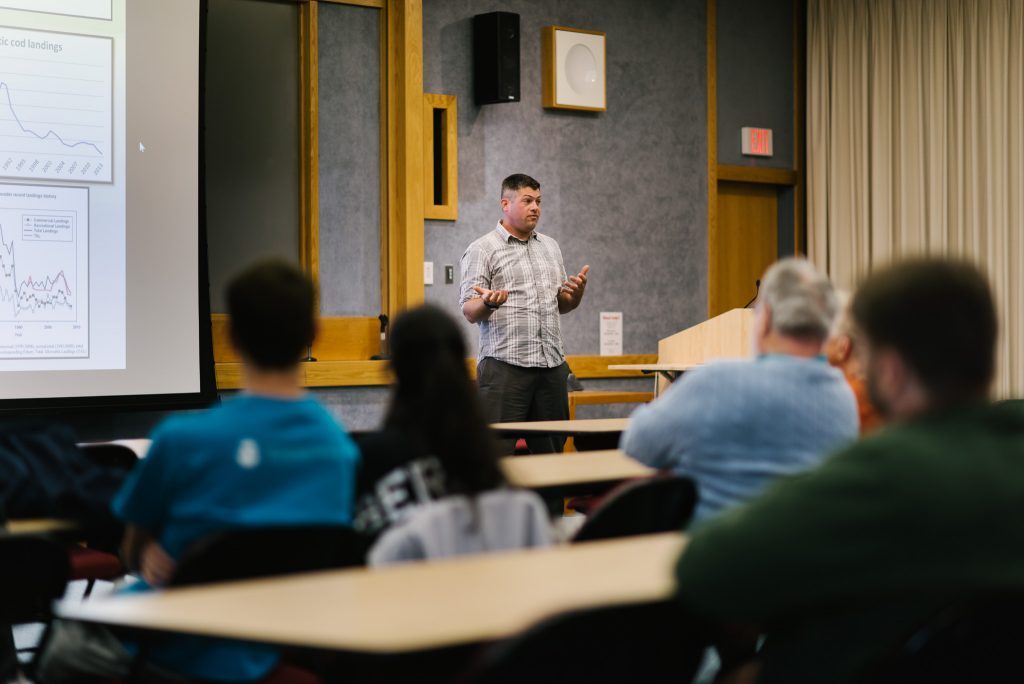 Innovation Month concluded with the annual Inventor Recognition Event on October 30th – recognizing the WHOIs most prolific inventors from the past year. Generously sponsored by an OTT Donor, inventors who have disclosed an idea, had a filed or issued patent, or have participated in the Tech Transfer process are invited for afternoon drinks and appetizers. We look forward to hosting this event each year, commending all WHOI Innovators for their contributions.
WHOI Innovation Month In The News:
WHOI To Host Marine Technology Pitchathon In October